Save the date for the Annual Dia De La Mujer Conference that will be held from 8am till 5pm on April 6th, 2019 at the Kellogg Hotel and Conference Center on the campus of Michigan State University. Rosa Alicia Clemente has been chosen to be the Keynote Speaker.
Rosa Alicia Clemente is an organizer, political commentator and independent journalist. An Afro-Puerto Rican born and raised in the Bronx, NY she has dedicated her life to organizing, scholarship and activism. She is one of the most raw, honest, political, social, and cultural voices in the country. From Harvard to prisons, Rosa has spent her life dedicated to grassroots organizing and scholar activism. Throughout her scholarly career, Rosa has been a constant on the ground presence through the many political struggles facing people of color in the 21st century. She travels nationally as a public speaker, at colleges and universities, various organizations organizing and speaking to a wide range of communities. She was the first ever Afro-Latina women to run for Vice-President of the United States in 2008 on the Green Party ticket. She and her running mate, Cynthia McKinney, were to this date the only women of color ticket in American history.
DDLM is a statewide leadership and empowerment conference dedicated to the advancement of Latinas. The Día de la Mujer Conference is celebrating 26 years of existence and has become an institution in the Midwest region for the empowerment of thousands of Latinas that have attended each year. The success of this community initiative is due to the hard work and dedication of our volunteers and sponsors each year. The goal of the conference is to empower, motivate, inspire, train, and work collectively to expand opportunities for Latinas and all women. According to the White House Initiative on Educational Excellence for Hispanics – Latinas in the U.S. (2015), Latinas have the lowest high school graduation rate compared to other major subgroups and are less likely to complete a college degree. Furthermore, the college completion rate is 19 percent compared to nearly 44 percent of white women. Many of the barriers that hold Latinas back relate to poverty and access to health and education. Historically, Latina women experience more adversity and challenges on their paths to success than women do from other cultural/language groups.
For 25 years, DDLM has been disseminating information & evidence based strategies to attendees through a series of informative workshops, keynote speakers, and exhibitions. Last year we offered 30 workshops that focused on business, finance, education, health, community development, inter-personal growth, self-empowerment, and leadership. DDLM is open to everyone regardless of cultural identification, gender or ethnicity and serves as a great cross-cultural learning experience. Please share this wonderful opportunity with your networks!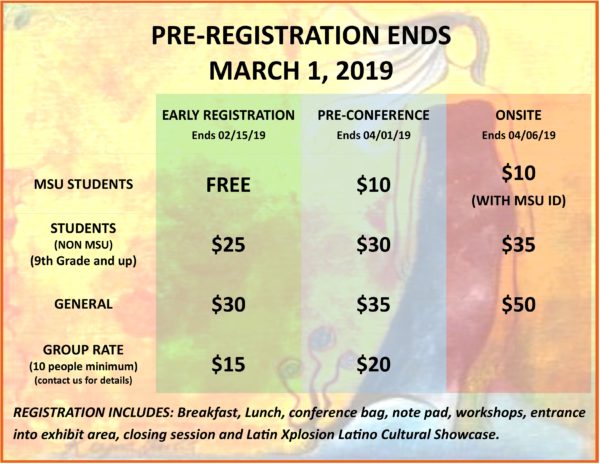 To Register: https://msu.co1.qualtrics.com/jfe/form/SV_8bPpkFqYFG1Ju6N
Facebook DDLM Page: https://www.facebook.com/pg/ddlmmsu/events/?ref=page_internal